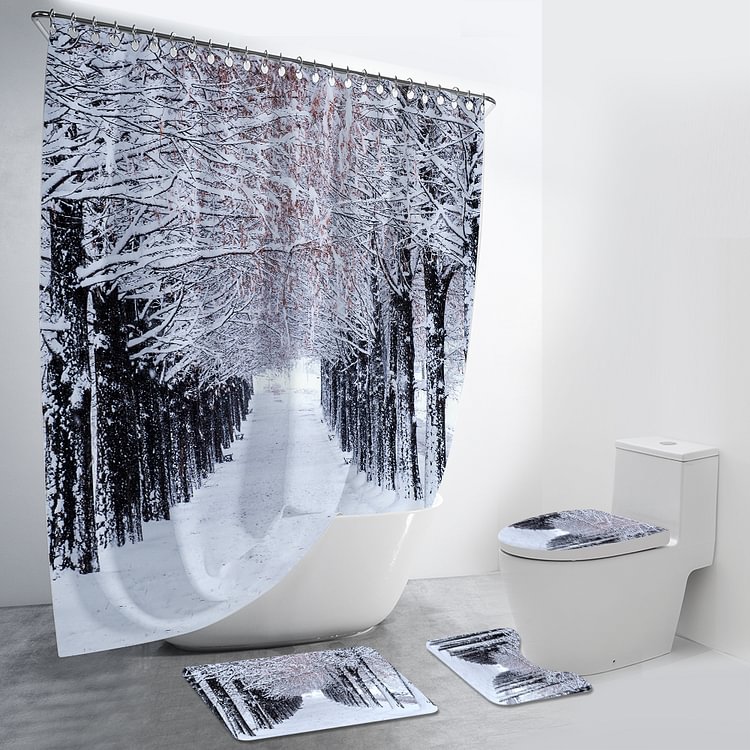 Special Offer
10% OFF 1st Order (Code:NEW10)
orders over $69, get Free Shipping
Do you enjoy it when you taking a shower? If not, try to change something of your bathroom, start with shower curtains. Make your bathroom refined,unique or lovely! Keep one for yourself, or give it as a gift to a friend.
Shower Curtain Details
Premium Quality: Our shower curtains are made of expertly chosen and thoroughly tested polyester fabric, which is made to withstand moisture-rich bathroom environments. The fabric of our shower curtains is very soft and drape.
Waterproof and Durable: Premium polyester fabric with a firm yet smooth texture, which promotes water bead formation and prevents curtain soaking and bathroom floor messes. Our high-quality shower curtain inhibits dirty thing growth.
Rust-Resistant Metal Grommets: This 3D printing shower curtain provides rust-resistant metal grommets that will accommodate the included shower hooks or other decorative hooks. Strong and non-rusting metal grommets provide longer service.
Machine Washable: Our fabric shower curtains are machine washable for easy home care, so you can include it in your next laundry load for hassle-free cleaning. It can be cleaned with quick rinsing or wiping after a shower. Perfect for home and hotel use.
Worry-Free After-Sales: Have any quality problems, we will arrange to remake them!
3Pcs Bath Rug Set Details
Package including:
18"x30" size include 1 small bath rug 14″x18″, 1 U-Shape contoured rug 15″x18″, 1 large bath rug 18″x30″; 20"x32" size include 1 small bath rug 16″x18″, 1 U-Shape contoured rug 16″x20″, 1 large bath rug 20″x32″.
Material Description:100% Polyester Fiber, Bottom Non-Woven Plastic.
Non-Slip Bath Rugs: Non-slip bottom is made of high-quality PVC material. This anti-skid backing has practically slip resistance on the tile floor surface, that it won't slip or slide to keep you more safe and cozy.
Super Quality and Comfort: Our super soft and ultra-comfortable bath rugs protect your feet from the cold bathroom floor, especially soft and thick material relieves pressure and fatigue on your feet.
High Water Absorbency: High-pile, thick Chenille fabric helps save your floors from dripping water while you're stepping out of the bath, Jacuzzi, shower, or getting ready by the sink.
Machine Washable: Wash on cold with mild detergent. Use only non-chlorine bleach when needed, hang to dry, or air dry flat. Do not Bleach or Dry Clean. Very durable material, the color will stay nice and vibrant for years to come no matter how many times they'll be washed and dried.
Worry-Free After-Sales: Have any quality problems, we will arrange to remake them!
Shipping & Returns
Please allow us to process your order within 1-2 business days.
Help Center
Email Us: [email protected]
Bulk order: [email protected]
Message us: (302)315-0808‬