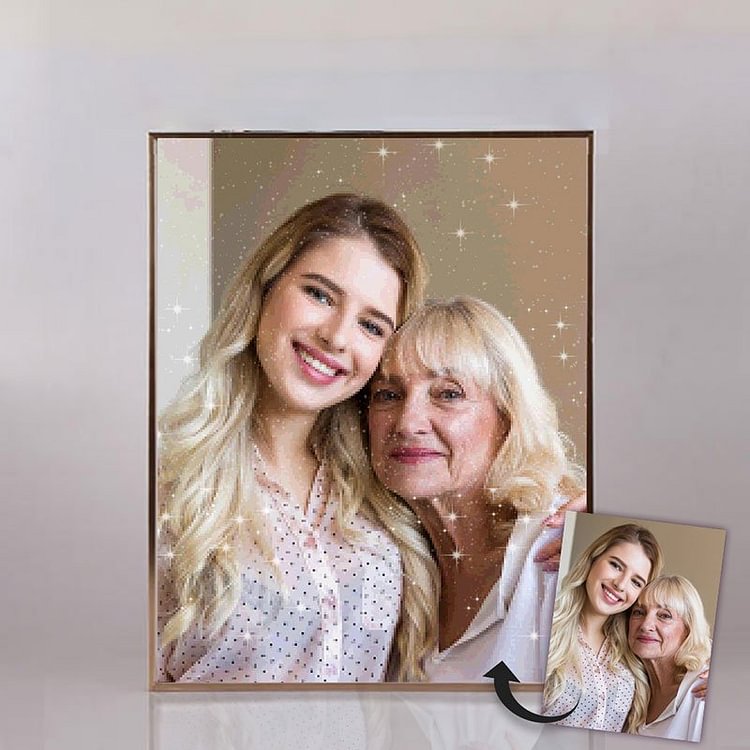 Personalized Photo Customized Diamond Painting Kits - Mother's Day Gift
Special Offer Today!
🎁 Use code DPT10 for an extra 10% OFF
✈️ Free Shipping on orders over $69
💝 Free Christmas Gift Bag for Orders over $49
Most Unique Gifts for Mom!
Best Memorable Gifts for mom, Mother's Day Gifts, Personalized Photo Diamond Painting Kits for Mom, Love Photo Diamond Painting Kits to Keep the beautiful moment. Custom diamond painting for your special moment, turn your favorite photos into a unique all-diamond diamond painting kit! We can convert all pictures into diamond painting designs. For example, wedding photos, pet photos, baby photos, personal selfies, travel photos, etc. The perfect DIY gift to commemorate.
What's in the Package
Each kit comes with everything you need to get started:
1x premium adhesive canvas
1x set of individually packaged Resin diamonds
1x premium diamond pen tool
1x solid glue used to pick up diamonds with the diamond pen
1x grooved organizing tray (shake lightly to sort your diamonds)
1x Tweezer
**Frame not included**
Why you should order
Diamond painting is an easy and enjoyable activity for crafters young and older.
1.Snuggling up together with your family or friends to draw this handmade product to enjoy the joy of family improvement and consolidate relationships.
2.During this finishing process, can reduce stress, help emotional adjustment, enhance self-confidence and perseverance, cultivate patience and finally experience pride and success.
3.Cultivate children's practical ability and patience, improve their understanding of color and aesthetics.
Product Features
High-Quality Canvas Materials: The diamond painting kit uses high-quality canvas, which is durable, non-toxic, waterproof, moisture-proof, and wrinkle-free.
Environmental Protection Materials: The environmentally friendly hot melt glue has strong viscosity and is not easy to fall off!
Personal Diy Kit Designers: We have a team of professional designers. Each diamond painting kit is crafted by a private designer.
Every Diamond Art Kits 20% More Diamonds: We Have Added 20% Diamond Beads To Dimond Painting Kits, Leaving You With No Concerns About The Lack Of Beads. High-quality full diamonds have more vivid colors, the whole painting feels more three-dimensional and vivid.
Free Photo Enhancements
We will help you optimize meaningful pictures. Our design team will review and optimize each image, and then transform it into amazing diamond art.
Shadow and Highlight Enhancements: We will make sure few details will be lost in the very dark or very bright areas of your image.
Brightness and Contrast Adjustments: Our goal is to make sure your diamond painting is bright, detailed and full of wonderful colors.
Optimized Color Correction: Sometimes, unexpected colors may turn up in your diamonds. Black areas in photos may contain shades of green or brown when converted to diamond painting. We'll do our best to keep the color code of your painting to retain color fidelity.
Production, Shipping & Returns
Please allow us to process your custom order within 3-5 business days
Free worldwide shipping for orders above $69
Free Remake Guarantee. if your first order doesn't fit like you think it should, we'll make you a new one free of charge
Support Team
Email us: [email protected]
Bulk order: [email protected]
Message us: ‪(302) 315-0808