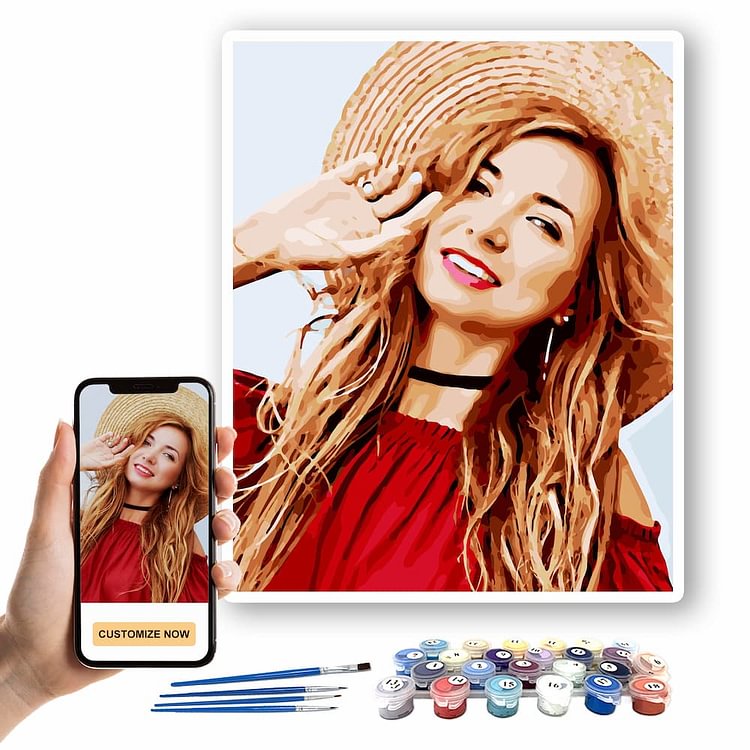 Special Offers Today!
🎁 Use code PBN10 for an extra 10% OFF
✈️ Free Shipping on orders over $69
💝 Free Christmas Gift Bag for Orders over $49
Why you should order
Are you still looking for an economical and meaningful gift? Congratulations you found us!
This simple number filling will turn you into a master painter in seconds! It can be a meaningful decoration, a gift, or even a pastime of boredom. It would need time to fill out the paint thus, it will be the most tangible and meaningful gift.
Choose the size and the elements that you want us to make for you. You will be enjoyed during your painting, moreover, after you finish I am sure you will be proud of yourself!

A wedding photo, a family portrait, graduation, a holiday trip … and so much more! Don´t wait any longer to create your own Custom Paint by Numbers kit.

Package Included

-1x numbered acrylic-based paint set
-1x pre-printed numbered high-quality canvas
-1x set of 4x paint brushes (Varying bristles-1x small, 1x medium, 1x large)
-1x hanging kit, including 4x screws, 2x non-track hooks and screwdriver
-1x Wood Frame

Made the ''paint by numbers kit''by your own photos and pictures
Turn your precious memories and moments into a special and unique canvas wall decor. A great gift idea and a perfect decor for your home. A great canvas wall art for holidays, such as Christmas, Thanksgiving, New Year, Valentine's Day, Father's Day, Mother's Day, graduation, anniversary, and birthday gifts.
A Perfect Masterpiece - Enjoy the Painting Time!

Product Features
⭐️ Easy-painting for Everyone.
Doesn't matter you are a painting beginner or an expert. Age and skill level also don't matter! With the numbers and clear color blocks, you can easily finish a masterpiece on a piece of cake.

⭐️ Experience the feeling of an artist.
Turn your treasured recollections and moments into a specific and special acrylic portray wall decor. Experience the feeling of an artist. Find a satisfactory place with a cup of coffee and experience the painting time!

⭐️ How to paint.
Use the acrylic paint which is marked with numbers to fill in the areas labeled with identical numbers and corresponding colors. Let it dry for a few hours or in a single day and it is geared up to hang.

⭐️ Multi-application.
Don't need to buy an extra frame to hang it. We provide the assembled wood frame. Once you finished painting, it's all ready to decor and brightens your walls. A great canvas wall art for holidays, such as Christmas, Thanksgiving, New Year, anniversary and birthday gifts.



⭐️

TIPS
Use the paint directly and do not add any water.
If you fill in the wrong color, you can wait for the paint to get dry and then cover the wrong part with the correct color on the surface.
Please cover the lid of the paint well when you do not use it, in case the paint gets dry.
The figures on the canvas may not be covered entirely, hope you do not mind.
The paint we offer is enough for normal use, please do not waste it in case of a paint shortage.
Easy To Customize
Customize your Paint by Numbers with your own photo, just tap the "Choose photo" button, attach your photo, checkout. It's so easy!
FREE Photo Enhancements
Our Expert Design Team reviews and optimize every image before it's turned into a painting portrait. What enhancements do we make to your photo?
Basic Cropping And Framing: We will make sure the subject(s) of your photo is the focus of your oil painting.
Shadow And Highlight Enhancements: We will make sure a few details will be lost in the very dark or very bright areas of your image.
Brightness And Contrast Adjustments: Our goal here is to make sure your

oil painting

is bright, detailed and full of wonderful colors.
Optimized Color Correction: We'll do our best to keep color code your

oil painting

to retain color fidelity.
Production, Shipping & Returns

Please allow us to process your custom order within 3-5 days.
We provide Fast Shipping Worldwide within 7-12 days.
We promise 100% satisfaction. If you don't like it, we will send a replacement product.
Help Center
Email Us: [email protected]
Bulk order: [email protected]
Message us: (302)315-0808