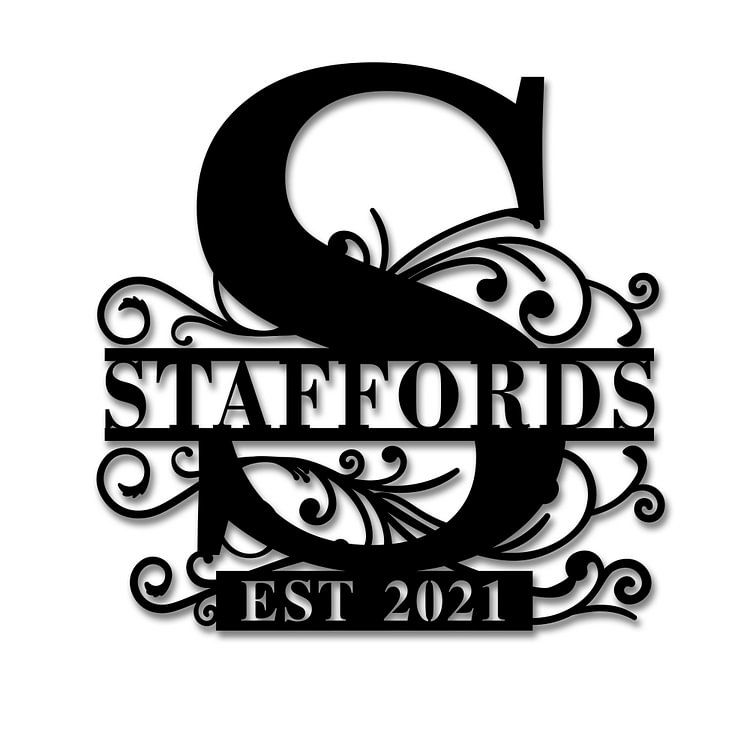 Special Offers Today!
🎁 Use Code METAL12 to enjoy an extra 12% OFF
✈️ Orders over $78, get Free Shipping

## Why You Should Order

Make a beautiful custom metal sign, personalized name metal monogram sign with your or your family's name!
This piece will look impressive anywhere in your home and would make the perfect housewarming gift idea! also the best gift for a housewarming, wedding gift, anniversary gift, housewarming gift, or any occasion at all!
Each sign is laser cut with top-of-the-line laser technology to ensure precision!
Your sign is powder-coated to give a smooth finish and long-lasting durability for indoor or outdoor use!
## Highlights
⭐️Waterproof & Anti-fading: All products are electrostatically powder-coated. This will prevent rust and corrosion waterproof and fade-resistant and guarantees durability for indoor & outdoor use.
⭐️ High-Quality Steel: It is made of No.14 cold-rolled steel, which is superior to products made of No.16 steel.
⭐️Easy to hang: All our metal wall decor is designed to be hung on either an interior or exterior wall. (with 6 Screws).
⭐️Good decoration ideas: Personalized metal signs can be used on many occasions, such as the front door of the home and the living room, wedding parties, housewarming events, etc.
⭐️Many sizes available: 12 inches, 16 inches, 18 inches, 24 inches, 30 inches, and 36 inches, feel free to email us for more sizes.
⭐️Precision cut: We don't just simply draw outlines, our personalized designs make them unique, beautiful, and elegant, Create the perfect name logo or family logo.
## Customizing Your Order is Easy and Simple
Customize your metal sign with the name, initial letter, and year, and add information to the text box.
Step 1: Add the Name (16 characters max)
Step 2: Add the Initial Letter
Step 3: Add the Year

## We Provide The Best Quality Service
Please allow us to process your custom order within 3-5 business days.
⭐️ Free Expedited Shipping 5-7 business days, for the size over 20-inch (include 20-inch).
⭐️ Standard Shipping 7-12 business days, for the size under 20-inch.
⭐️ 10-Year waterproof and fade-resistant warranty
⭐️ See our Return Policy
## Help Center
Email Us: [email protected]
Bulk order: [email protected]
Message us: (302) 688-7342