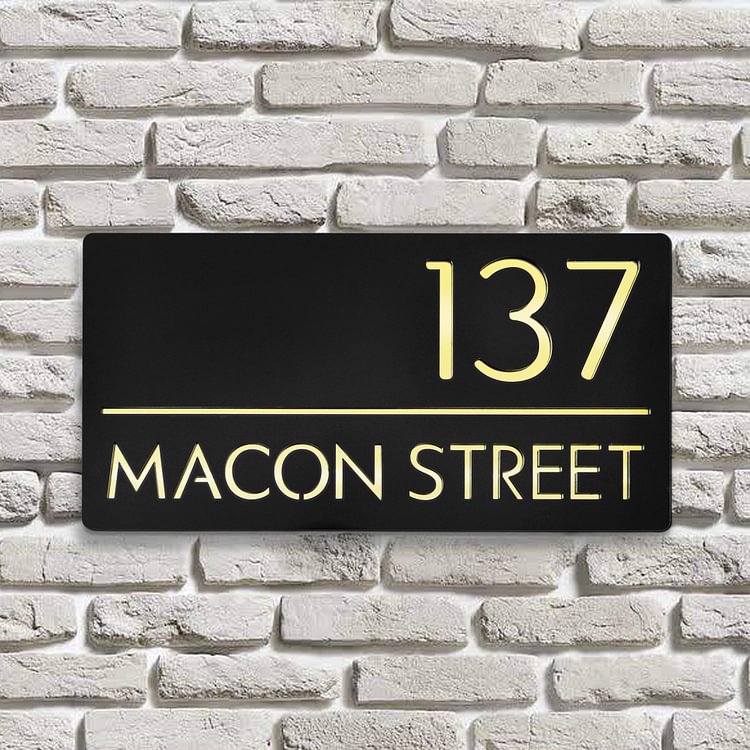 Special Offers Today!
🎁 Use Code BP12 to enjoy 12% OFF
Materials: Acrylic, Colored Mirror Acrylic
Width: 12/15/18 inches
Height: 5 inches
Depth: 0.375 inches
House Number Font: Luengo
Address Name Font: Hauslan
## Why You Should Order
Your house is just a few clicks away of going from a normal family home, sophisticated, elegant, and luxurious property.
This stunning Contemporary Decoration House Address Plaque is the perfect modern accessory to freshen up your home design. Personalize your house with a minimalist and clean address sign, so that everyone knows that you have classy taste.
Make your place look like it was finished by a professional designer. With a modern font, the cut-out numbers and letters give depth to the sign, showing off a fashionable sense of style. Elegance and luxury can be felt immediately.
The installation is easy and the plaque fixings and spacers are hidden, which makes the sign float gracefully just the right amount away from your wall.
Our sophisticated design is flawlessly executed, with an emphasis on the quality of the materials used. Our luxurious signs are laser cut from the best quality matte black acrylic with a shiny metallic acrylic backing, giving it that resplendent touch of precious metals. High-end design with a low affordable price.
The reinforced acrylic used is less fragile and resists up to 100 Degrees Celcius or 212 Fahrenheit, is weatherproof and UV stable, which won't fade or crack in the sun and will still look perfect for years to come.
## Highlights
⭐Waterproof and Fadeproof Materials: This product is made with only the best materials which will last a lifetime. The front acrylic is scratch resistant and the colored mirror acrylic does not flake off easily.
⭐Easy to Hang: All products come with pre-drilled mounting holes for easy installation. No complicated special templates or processes.
⭐Elegant Design: The geometricity of this modern home address sign is characterized by basic shapes and straight clean lines, with the classic mix of matte black and shiny metallic materials.
⭐Variety of Sizes and Colors: There are 3 sizes and 3 colors to choose from. We carefully taught this to different people with unique tastes. Choose the one that matches best with your house design style.
⭐Perfect Details: Laser-sharp finishing, no fading materials and our personalized designs make them unique, beautiful, and elegant pieces that you can hang wherever you think is best.
## Customization Steps
Customize your Modern House Number Sign with the number and street name.
Step 1: Add the Number
Step 2: Add the Street Name
## We Provide The Best Quality Service
Please allow us to process your order within 1-3 business days.
✈️ Orders over $69, get Free Shipping
## Help Center
Email Us: [email protected]
Bulk order: [email protected]
Message us: (302)688-7316