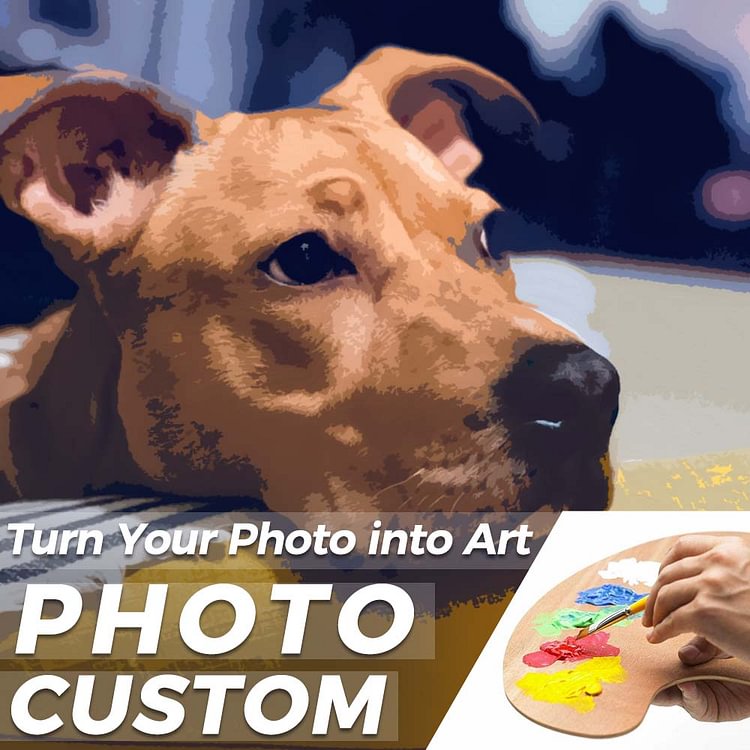 Create Your Own Paint By Numbers
Personalized Photo Gift!
Special Offer Today
🎁 Use code PBN10 for an extra 10% OFF
✈️ Free Shipping on orders over $69
💝 Free Christmas Gift Bag for Orders over $49
Are you still looking for an economical and meaningful gift? Congratulations you found us!
This simple number filling will turn you into a master painter in seconds! It can be a meaningful decoration, a gift, or even a pastime of boredom. It would need time to fill out the paint thus, it will be the most tangible and meaningful gift.
Choose the size and the elements that you want us to make for you. You will be enjoyed during your painting, moreover, after you finish I am sure you will be proud of yourself!
Package Included
-1x numbered acrylic-based paint set
-1x pre-printed numbered high-quality canvas
-1x set of 3x paint brushes (Varying bristles-1x small, 1x medium, 1x large)
-1x hanging kit, including 2x screws and 2x non-track hooks
-1x Wooden Frame (if selected)
A wedding photo, a family portrait, graduation, a holiday trip … and so much more! Don´t wait any longer to create your own customized kit.
More Details
High-Quality Canvas Material:
Strong durable material that can withstand the test of time

Colors printed on Canvas material always come out vibrant and stunning

Dense fabric that doesn't tear easily

Numbers marked so it's easy to follow
Premium Synthetic Brushes:
Our brushes are very easy to clean and don't retain filth like most paint brushes

Highly moisture absorbent bristles that allow you to paint with ease
Stunning Color Paints:
The color from the paints is naturally glossy and always stands out

Completely non-toxic and safe for the environment
Tips:
Use the paint directly and do not add any water.
If you fill in the wrong color, you can wait for the paint to get dry and then cover the wrong part with the correct color on the surface.
Please cover the lid of paint well when you do not use it, in case the paint gets dry.
The figures on the canvas may not be covered entirely, hope you do not mind.
The paint we offer is enough for the normal use, please do not waste it in case of the paint shortage.
Easy To Customize
Customize your Paint by Numbers with your own photo, just tap the "Choose photo" button, attach your photo, add to cart, checkout. It's so easy!
Send us a photo you want to customize the oil painting with

Our team will crop out the photo to fit the oil painting, remove the background massive, adjust the photo color, etc.

The bigger the photo and higher resolution will allow us to make a perfect print
FREE Photo Enhancements
Our Expert Design Team reviews and optimize every image before it's turned into a painting portrait. What enhancements do we make to your photo?
Basic Cropping And Framing: We will make sure the subject(s) of your photo is the focus of your oil painting.
Shadow And Highlight Enhancements: We will make sure a few details will be lost in the very dark or very bright areas of your image.
Brightness And Contrast Adjustments: Our goal here is to make sure your

oil painting

is bright, detailed and full of wonderful colors.
Optimized Color Correction: We'll do our best to keep color code your

oil painting

to retain color fidelity.
100% Satisfaction Guarantee
Customer Happiness is our No.1 priority.
If you're unhappy with your purchase for any reason at all, let us know!
Production, Shipping & Returns
Please allow us to process your order within 3-5 business days.
Need Help With Your Purchase?
Email Us: [email protected]
Bulk order: [email protected]
Message us: (408) 647-7186