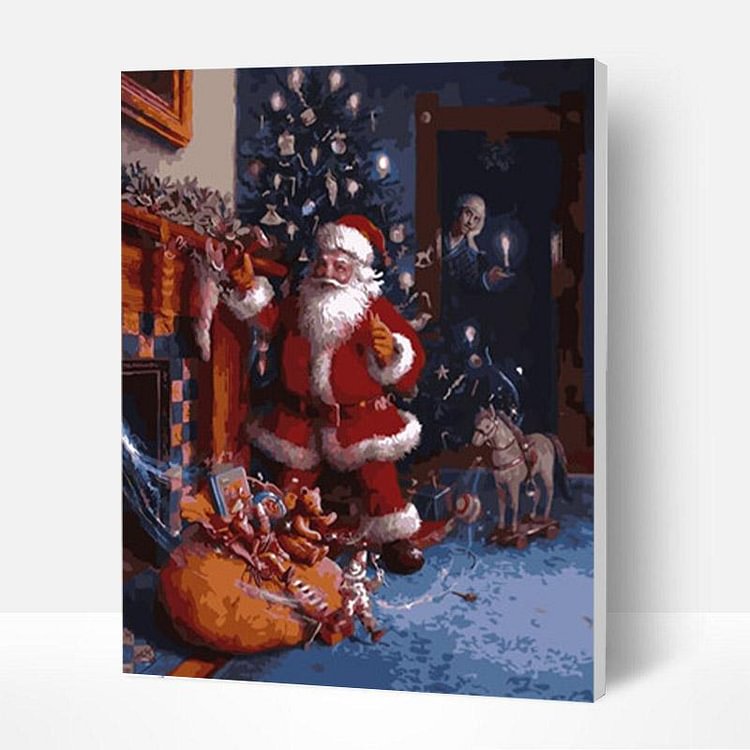 Paint by Number Kits
Happy Santa
Special Offer Today!
🎁 Use code PBN10 for an extra 10% OFF
✈️ Free Shipping on orders over $69
What's in the Package
This paint by numbers kit contains all the necessary materials to create your work:
-1x numbered acrylic-based paint set
-1x pre-printed numbered high-quality canvas
-1x set of 3x paint brushes (Varying bristles - 1x small, 1x medium, 1x large)
-1x hanging kit, including 2x screws and 2x non-track hooks
-1x set of easy-to-follow instructions for use
Size:16x20 Inch / 40x50 cm
Packaging: Securely wrapped Packaging
Why you should order
Unleash your creativity with EASY, FUN, BEAUTIFUL DIY paint-by-numbers kits for adults. Spend a relaxing night in and create your own awesome wall art.
1 -Best Home Decoration- Paint your own wall art, even if you have zero artistic ability.
2 -Perfect Gift Idea- Whether it's for a birthday or Mother's Day, give a gift they'll love.
3 -Relax Take your mind off the anxieties of the workday.
More Details
Canvas:
High-quality canvas(linen), have texture tactility, easy to color.
Brush:
Three size painting brushes, you could use the large brush to paint for the large part and the small brush for the small part.
Easy to clean, please wash the brush before you change another color or stop painting.
Paint:
Clear color and could be mixed, create your own works according to your favor and idea.
Eco-friendly acrylic paints, bright colors, and suitable for the store.
Paint by color numbers, finish one by one, or firstly you can paint the dark color, then paint the light color. IT WILL BE EASY!
You can decide the drawing turn according to your personal favor or in turns of the numbers.
Tips:
Use the paint directly and do not add any water.
If you fill in the wrong color, you can wait for the paint to get dry and then cover the wrong part with the correct color on the surface.
Please cover the lid of paint well when you do not use it, in case the paint gets dry.
The figures on the canvas may not be covered entirely, hope you do not mind.
The paint we offer is enough for normal use, please do not waste it in case of the paint shortage.
100% Satisfaction Guarantee
Customer Happiness is our No.1 priority. If you're unhappy with your purchase for any reason at all, let us know!
Production, Shipping & Returns
Please allow us to process your order within 1-3 business days.
US Standard Shipping 7-15 business days (DHL / USPS / FedEx)

UK/EUR

Standard Shipping

7-12

business days (DHL / 4PX)

See our Return Policy
Support Team
Email us:[email protected]
Bulk order: [email protected]
Message us:‪(302) 315-0808