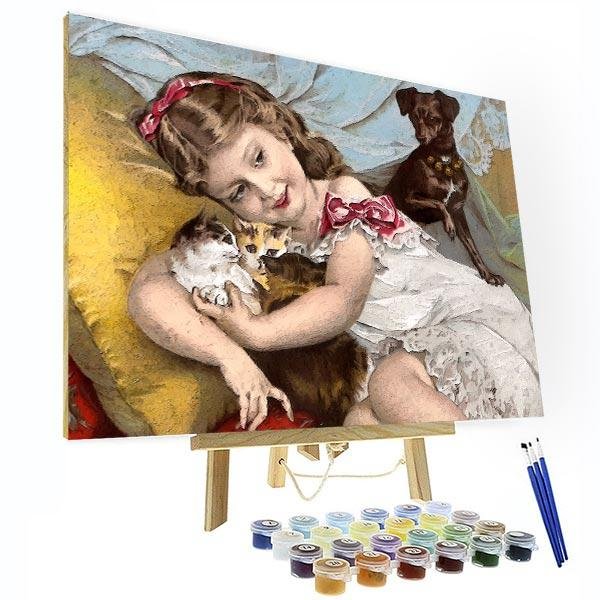 Paint by Numbers Kits Perfect For
Personalized Photo Gift!
** Special Offer TODAY !! **
🎁 Use code PBN10 for an extra 10% OFF
✈️ Free Shipping on orders over $69
💝 Free Christmas Gift Bag for Orders over $49
A wedding photo, a family portrait, graduation, a holiday trip … and so much more! Don´t wait any longer to create your own customized kit.
You can make an oil portrait for any important person by yourself!
Enjoy creating an artistic masterpiece in your own home.
You will appreciate the high-quality pre-mixed artist's paints in our premium paint-by-number kits.
Relaxing and Joyful:

Do you often feel tired or stressed? This product will help you to relax and decrease your stress in your free time, just enjoy creating a stunning work of art

Enhance Relationship:

It may help people to enhance the relationship between parents and kids, friends and friends, husband and wife if paint together

Gift Choice:

Do you often been troubled that you don't know which gift should be chosen? This is a pretty choice as a gift for Christmas, Thanksgiving Day, New Year, Birthday or other important days

Easy:

You still will create a beautiful and exquisite picture no matter you are good or poor at drawing, it doesn't need any basic knack of painting

Educational Toy:

It is a good choice for education, it will help kids to enhance their intelligence and get interested in drawing
More Details
The Canvas:
High-quality canvas(linen), have texture tactility, easy to color.
The Brush:
Three size painting brushes, you could use the large brush to paint for the large part and the small brush for the small part.
Easy to clean, please wash the brush before you change another color or stop painting.
The Paint:
Clear color and could be mixed, create your own works according to your favor and idea.
Eco-friendly acrylic paints, bright colors, and suitable for the store.
Paint by color numbers, finish one by one, or firstly you can paint the dark color, then paint the light color. IT WILL BE EASY!
You can decide the drawing turn according to your personal favor or in turns of the numbers

TIPS
Use the paint directly and do not add any water.
If you fill in the wrong color, you can wait for the paint to get dry and then cover the wrong part with the correct color on the surface.
Please cover the lid of paint well when you do not use it, in case the paint gets dry.
The figures on the canvas may not be covered entirely, hope you do not mind.
The paint we offer is enough for the normal use, please do not waste it in case of the paint shortage.

RECOMMENDED AGE FOR CHILDREN 6 YEARS OLD AND UP OR ADULTS.
Only 2 Steps!

Turn Your Photo Into Custom Oil Painting
step 1: Click CHOOSE PHOTO

step 2: Choose the SIZE

SO EASY!
FREE Photo Enhancements
Our Expert Design Team reviews and optimize every image before it's turned into a painting portrait. What enhancements do we make to your photo?
Basic Cropping And Framing: We will make sure the subject(s) of your photo is the focus of your oil painting.
Shadow And Highlight Enhancements: We will make sure a few details will be lost in the very dark or very bright areas of your image.
Brightness And Contrast Adjustments: Our goal here is to make sure your

oil painting

is bright, detailed and full of wonderful colors.
Optimized Color Correction: We'll do our best to keep color code your

oil painting

to retain color fidelity.
100% Satisfaction Guarantee
Customer Happiness is our No.1 priority.
If you're unhappy with your purchase for any reason at all, let us know!
【Production, Shipping & Returns】
Please allow us to process your order within 3-5 business days.
【Package Include】
1 set of acrylic paints
1 x canvas (without frame) / wooden framed canvas (wooden frame)
3 x brush pen
2 x hook
2 x screw
Support Team
Email us: [email protected]
Bulk order: [email protected]
Message us: ‪(302) 315-0808