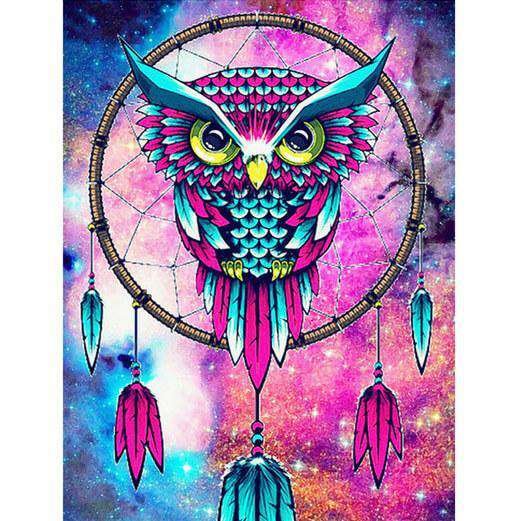 ________________
5D Diamond Painting Kit - 100% Full Canvas
Owl Dream Catcher
Special Offer Only Today !!
1 - FREE Woven Bracelet on Order $30+
2 - FREE 28-Slot BDiamond Storage Box on Order $60+
3 - FREE LED Slim Light Pad for Painting on Order $69+
WHAT'S IN THE PACKAGE?
Each kit comes with everything you need to get started: 
1x numbered adhesive canvas
1x pair of tweezers
1x diamond painting pen with rubber cushion
1x grooved organizing tray
Extra plastic bags for diamond storage 
Colored resin diamonds
BENEFITS OF DIAMOND PAINTING
1 - 5D DIY diamond painting can experience a sense of achievement, learn to
Reduce Stress
, enhance self-confidence and perseverance cultivate patience
2 - 5D DIY diamond painting can be used to decorate the family room, make life more harmonious. Most popular DIY
decoration
, the elderly and children are suitable.
3 - Make
Gifts
for your loved ones, stick diamonds of into this painting with your own hands, just as you weave everlasting love with your own hands
100% SATISFACTION GUARANTEE
Customer happiness is our No.1 priority. If you're unhappy with your purchase for any reason at all, let us know! We'll be happy to refund you 100% of your purchase price or ship you replacement kits. 
LIFETIME MISSING DIAMOND WARRANTY
Enjoy the peace of mind that comes with knowing, we've always got your back! Kits come with a lifetime Missing Diamond Warranty. so please don't worry about the painting diamond missing.
FREE U.S. SHIPPING
We provide Worldwide Free Shipping. Please allow 9-14 business days for shipping. Custom kits may take slightly longer due to increased processing times. Orders may arrive in multiple packages. 
 Perfect Customized Gifts For Your Love!