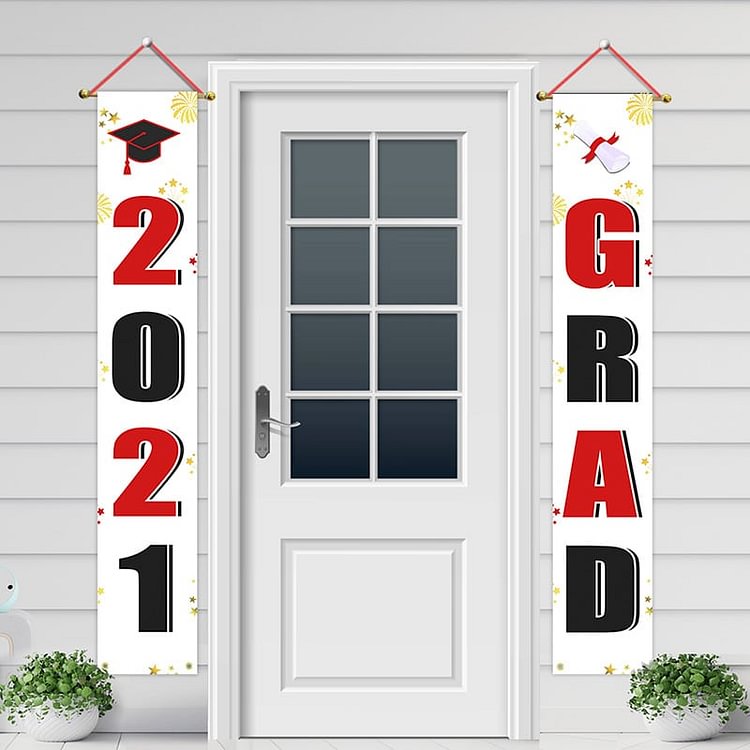 Graduation Banner 2021 Party Decor
Special Offer Today!
Use code GRAD12 to Get an extra 12% OFF at checkout
Get Free shipping on orders over $69
2021 Grad door signs are printed with the words 'class of 2021, congrats grad', and patterns like graduation hat, diploma certificate, star and more. They can be applied as photo props to help you take beautiful and memorable photos or selfies, leaving an impressive memory for your big day. The graduation door banner decoration brings you an impressive graduation moment with your classmates, family & friends.
Features
Durable Material: the graduation porch sign is made of weather-resistant polyester fabric, which is seamless, anti-wrinkle, and not easy to wear or fade; Soft fabric makes it foldable for storage and carrying conveniently.
Easy Use: The graduation porch sign top comes with a rod and string which can be hung up well. You can find that each banner has 2 metal grommets at the bottom which you can fix and keep the banner straight.
HD Printing Technology: Use advanced HD printing technology, have vivid color. No strange odor. Toxic-free and safe.
Worry-Free After-Sales: Safe packaging and fast shipping for purchase. Have any quality problems, we will arrange to remake them! Give you 100% trust and protection!
Shipping&Returns
Please allow us to process your order within 1 business day.
See our Shipping Policy
See our Return Policy
Help Center
Email Us: [email protected]
Bulk order: [email protected]
Message us: (302)315-0808‬