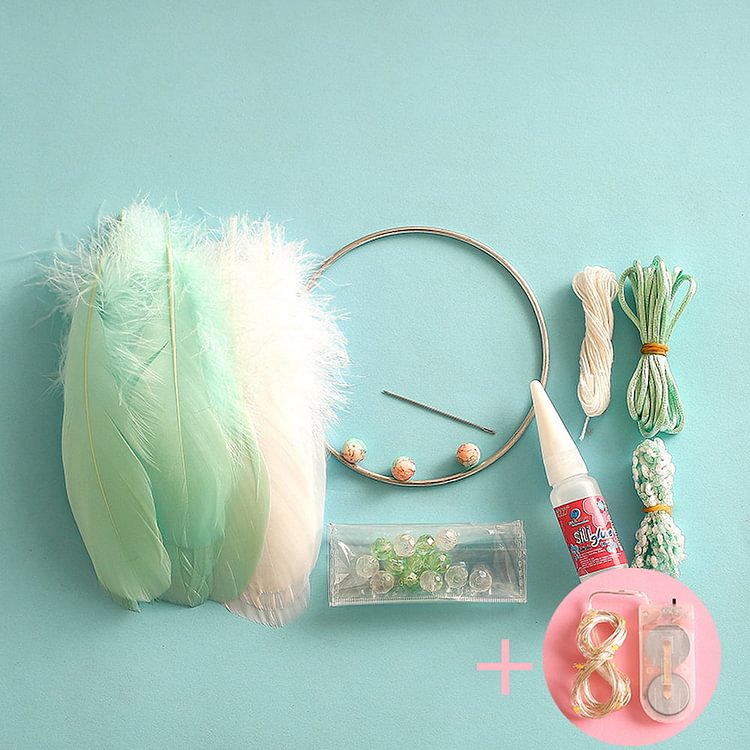 DIY Dream Catchers Craft Kit for Beginners
Make Your Own Home Decor Wall Hanging
Special Offers Today!
10% OFF 1st Order (Code:NEW10)
orders over $69, get Free Shipping
DIY dream Catcher kit has an round shaped design, with with meaningful sacred items like feathers and beads. It is not only beautiful and colorful but also a very symbolic gift. You can make your own dream catcher,Enjoy the fun of DIY and share it with your friends.
Product Features
Perfect Gift for Ages 8+: No matter if you are a beginner, advanced DIY craft lover, you could enjoy the fun of DIY.
Good Quality Material: The DIY dream catcher kit are made of quality cotton line, feather, beads, metal hoop and led light (as an option), durable and won't fade, not easy to break and deform & durable.
Beautiful Symbols: Dream catcher wall decor have beautiful symbols, it brings peace and good luck. These pretty little hangings have more to them than just enhancing aesthetic, they drive out nightmares, provides wonderful dreams to the sleeping,creates a peaceful atmosphere for your place.
Perfect Gift: Dream Catchers is a great gift for loved ones and friends as these hanging bring pleasant dreams, good luck and harmony throughout ones life.
Quality Guarantee: Have any quality problems, we will arrange to remake them! Avail of this offer today so that you can secure your time and creativity and decor your home.
Shipping & Returns
Please allow us to process your order within 1-2 business days.
Help Center
Email Us: [email protected]
Bulk order: [email protected]
Message us: (302)315-0808‬