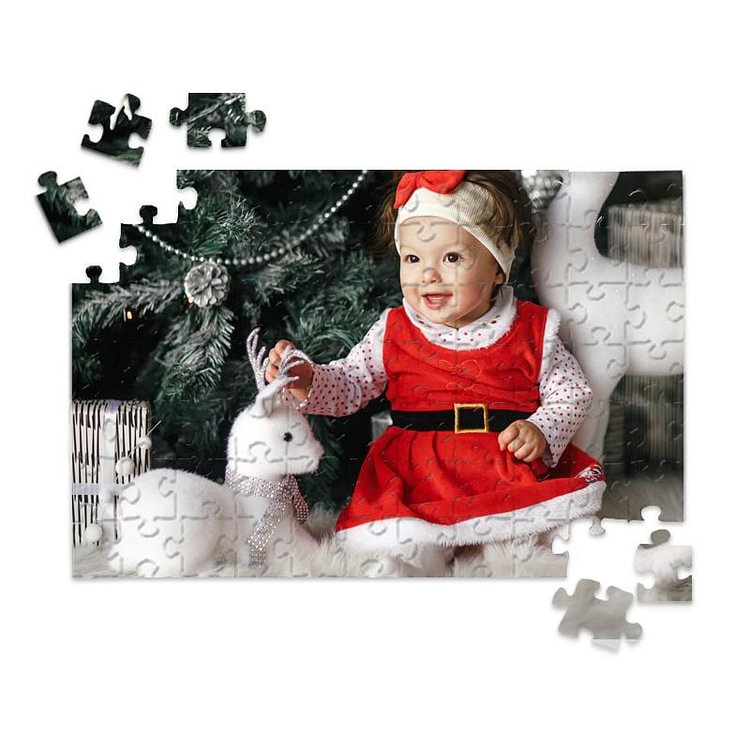 Create an ideal gift for your loved ones
Special Offers Today!
🎁 Use code PUZ10 for an extra 10% OFF
✈️ Free Shipping on orders over $69
💝 Free Christmas Gift Bag for Orders over $49
Craft stunning custom puzzles with your own photos! Turn your favorite photos into hours of fun with your family!
Our puzzle made with high-quality materials which can be an ideal gift for your family, friends, or the one you love most for any special occasion. If you need to prepare a gift for a birthday, Thanksgiving, Christmas, Valentines', graduation, or other such events, choose our custom puzzle. Our personalized photo puzzles are available in six sizes from beginner to advanced which suitable for all people.
Spending time with your kids, satisfy their curiosity, improve their spatial thinking ability, enhance self-confidence! Sharing a good time with your lover. Exercising the brain to improve the memory of the elderly and enrich their lives!
Why You Should Order
Turn designs, photos, and text into a great game with customizable puzzles! For hours of puzzle enjoyment, give a custom puzzle as a gift today!
Beneficial Activity: Working on jigsaw puzzles and focusing on the same image for longer periods can actually turn out more like meditations and induce a certain calmness and peace in the mind. And solving jigsaw puzzle plays a very important role in improving brain functions and sharpening your memory.
Relieve Stress: Take your mind off stress and anxieties. Research shows that creative activities like doing puzzles help reduce stress.
Perfect Gift Idea: Puzzle is one of the magical games that never go out of style. This is an ideal gift for any special occasion. You can make a jigsaw puzzle with photos representing common memories of you and your loved ones, and then regain the good memories together
Perfect For Beginners: Feel too hard to finish the work? Don't worry, just check the solution in the backside area. It has been divided into several parts with letters marked as "A" "B"…which is easier for beginners.
Details
Premium Quality: puzzles are manufactured from premium quality wood, non-toxic. Much thicker than the industry average. Each puzzle piece is unique and worthwhile.
High Quality of Printing: Colors printed on Puzzle board material always come out vibrant and stunning, and will not discolor after long-term storage.
Easy to Customize
Customize your Puzzle with your own picture, just tap the "Choose photo" button, attach your photo, add to cart, checkout. It's so easy!
Q: What are my design and personalization options?
A: Your design and personalization options are completely up to you. You can upload whatever you'd like – brand Logo, team logo, family badge, a photo, an inspiring quote, vintage graphics, memorable landmarks, and more.
Q: Is there anyone else who can help me to crop the photo?
A: Don't worry about your photos, our Photo Enhancement Team can help you out, crop the photo to fit the bath rug set, remove the background massive, add text on the photo. You don't need to learn any skill to crop the photo, just leave us a message or email us via [email protected]
Q & A
Q: If I attached the wrong photo, can I change it?
A: sure, we can modify the order for you, if you want to change the color, change the photo, just shoot us an email: [email protected]
100% Satisfaction Guarantee
Customer Happiness is our No.1 priority. If you're unhappy with your purchase for any reason at all, let us know!
Production, Shipping & Returns
Please allow us to process your custom order within 3-5 business days
Free worldwide shipping for orders above $69
Free Remake Guarantee. if your first order doesn't fit like you think it should, we'll make you a new one free of charge
Support Team
Email us: [email protected]
Bulk order: [email protected]
Message us: ‪(302) 315-0808