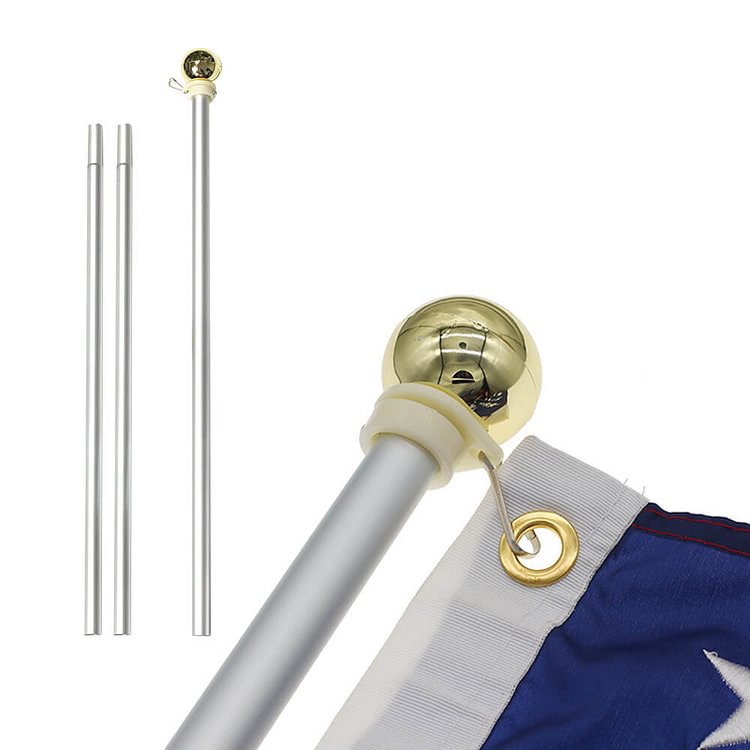 Special Offers Today!
10% OFF 1st Order (Code: NEW10)
orders over $69, get Free Shipping
What's in the package:
3 x 2 Ft Flag Poles
3 x Srews
1 x Bracket
1 x Adjustable Clip
Product Information:
Flagpole total length: 6 Ft
Flagpole diameter: 1.6cm
Description:
You don't have to worry about the flag is difficult to hang. We have an easy-to-operate flag pole and bracket here. You can hang the flag in a minute. In various festivals, you can use flags to express your attitude and reflect your taste.
Easy Installation. Flag poles with splicing only need to be spliced with each other, then twist once. They can easily disassemble and store when not in use. The bracket only needs to be tightened with screws.
Movable Grommet. Compared with traditional ropes flagpole, our flagpole is convenient to hang the flag with a grommet. Suitable for flags of 3*5 Ft and below, adjust the distance between the two hanging grommets simply.
Stainless Aluminum. The flag pole is made of aluminum to prevent rust. Even after a long time outdoors in the sun and rain, the flagpole will not rust.
Elegant Design. The top is designed with a golden circle, which is elegant and retro without losing fashion. It is suitable for various types of flags.
Multi-application. The flag pole kit is suitable for different types of flags. It can be installed on your wall, yard, roof, or even a truck through a 45-angle bracket that can display the full picture of the flag.
100% Satisfaction Guarantee
Customer Happiness is our No.1 priority. If you're unhappy with your purchase for any reason at all, let us know!
Production, Shipping & Returns
Please allow us to process your custom order within 3-5 business days
Free worldwide shipping for orders above $69
Free Remake Guarantee. if your first order doesn't fit like you think it should, we'll make you a new one free of charge
Support Team
Email us: [email protected]
Bulk order: [email protected]
Message us: ‪(302) 315-0808