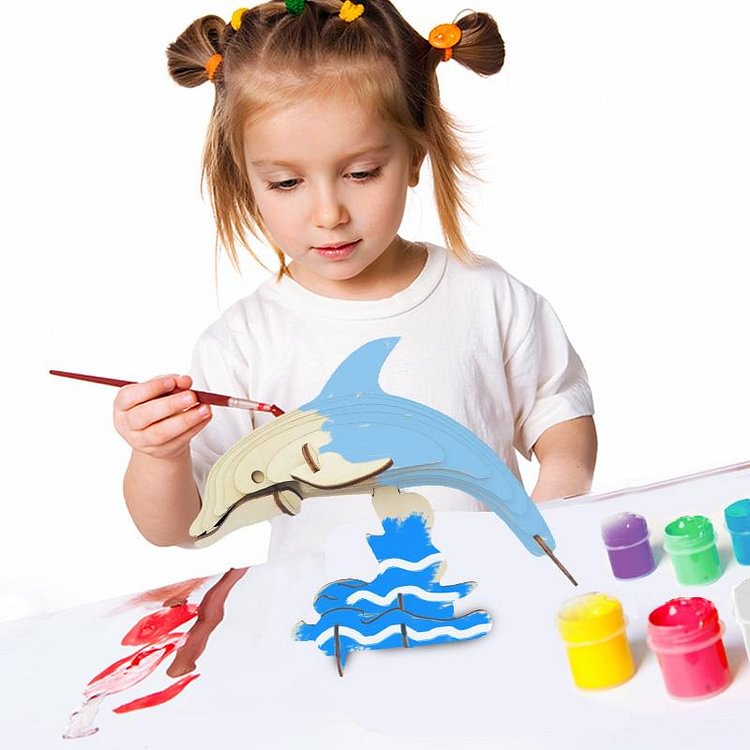 3D Wooden Puzzle Paint Kit for Kids
Dolphin&Swan
🎁 Use Code PUZ10 to enjoy 10% OFF
✈️ Free Shipping on orders over $69

Size: 6.7x5.5x3 Inch / 17x14x8 cm
Packaging: Securely wrapped Packaging
What's in the Package
3D puzzles to paint kit contains all the necessary materials to create your work:
-2x sheets of wooden pieces with all the unpainted pieces.
-6x paint(Contains three primary colors and other common colors)
2x paint brushes
-1x set of easy-to-follow instructions for use
Why you should order
Unleash your creativity with an EASY, FUN, BEAUTIFUL DIY 3D wood puzzles paint kit for kids. Spend a relaxing night and create your own awesome artwork.
1 - Easy to Paint - Color depends on you. It is a great toy for children who like to create and doodle by themselves. The set contains three primary colors and other commonly used colors. Children can use their imagination to paint animals in any color they like. Even if you do not paint,it still looks cool. This whole experience presented lots of opportunities for learning and fun.
2 - Non-Toxic Material - Water-based non-toxic painting, great craft and painting kit for children, create your own Animal world with any color you want, your friends can also participate in and enjoy the fun together.
3 - Perfect Gift Idea - 3D wood puzzle kit is well-crafted brain teaser puzzles. Fun and engaging for children. Perfect gifts for birthday, Christmas, and the entire holiday season!
High-Quality Material:
Water-based non-toxic painting

The puzzle pieces are sturdy, lightweight wood.

Made with safe, we made sure that the edges of each item have a smooth finish and no jagged edges

Easy to assemble, but a few pieces are more difficult to put in place and they have to be pushed very hard to fit.
Packaged very well and the instructions are easy to follow.
Tips:
Color depends on you.
This toy is not suitable for children under 3 years old.
It's easy to assemble, but it may take some effort to fix each piece of the puzzle, and sometimes an adult's help is needed.
You can use the three primary colors to make more colors.
It may take 20-30 minutes to put the pieces together, the painting is taking longer.
100% Satisfaction Guarantee
Customer Happiness is our No.1 priority. If you're unhappy with your purchase for any reason at all, let us know!
【Production, Shipping & Returns】
Please allow us to process your order within 1-2 business days.
US Standard Shipping 7-12 business days (DHL / USPS / FedEx)

UK/EUR

Standard Shipping

7-10

business days (DHL / 4PX)

See our

Return Policy
Support Team
Email us: [email protected]
Bulk order: [email protected]
Message us: ‪(302) 315-0808