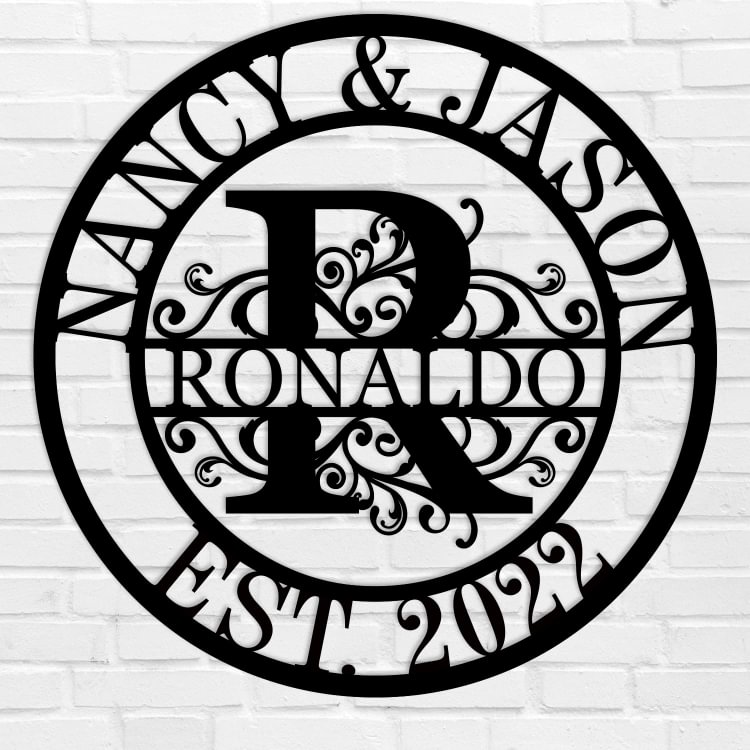 Special Offers Today!
🎁 Use Code METAL12 to enjoy 12% OFF
## Why You Should Order
Do you know that perfect home decoration that you dream about? Or that really special event that you have to go to, but don't know what to take as a gift? This is it!
Our Personalized Monogram is the perfect personalized gift for housewarming and the best anniversary gift, wedding gift, or valentine's day gift. Perfect for any unique personal occasion!
You can choose and personalize the family name, initials, special dates, and anything that is meaningful to you.
Get that personal touch at your home with this personalized decoration that goes beautifully anywhere in the house. You can even put it outside, on the porch, or on the balcony.
The Monogram makes the perfect wall decoration for parties and events.
## Highlights
⭐️Waterproof & Anti-fading: All products are electrostatically powder-coated. This will prevent rust and corrosion waterproof and fade-resistant and guarantees durability for indoor & outdoor use.
⭐️ High-Quality Steel: It is made of No. 14 cold-rolled steel, which is superior to products made of No. 16 steel.
⭐️Easy to Hang Anywhere: All our metal wall decor is designed to be hung on either an interior or exterior wall. All products come with pre-drilled mounting holes for ease of installation. *Screws as gifts.
⭐️Elegant Design for Anywhere: Personalized metal signs can be used on many occasions, such as the front door of the home and the living room, wedding parties, housewarming events, etc.
⭐️Variety of Sizes and Colors: There are 12 inches, 16 inches, 18 inches, 24 inches, 30 inches, and 36 inches to choose from. This last name metal sign is good for different people.
⭐️Design Detail: No steel shards, no fading or scratching, and our personalized designs make them unique, beautiful, and elegant pieces that you can hang wherever you want.
## We Provide The Best Quality Service
We quickly process your handmade custom order within 3-5 business days.
Expedited Shipping: 3-5 business days, for the size over 20-inch (include 20-inch).
Standard Shipping: 7-12 business days, for the size under 20-inch.
Get Free Shipping (DHL or FedEx) on Orders over $78!
Every Personalized Monogram has a 10-Year Waterproof and Fade-resistant Warranty.
See our Return Policy
## Customizing Your Order is Easy and Simple
You only need to add the information you want to the text box.
Step 1: Add the Name (20 characters max)
Step 2: Add the Last Name (18 characters max)
Step 3: Add the Initial Letter
Step 4: Add the Bottom Text (20 characters max)
## Help Center
Email Us: [email protected]
Bulk order: [email protected]
Message us: (302) 688-7316