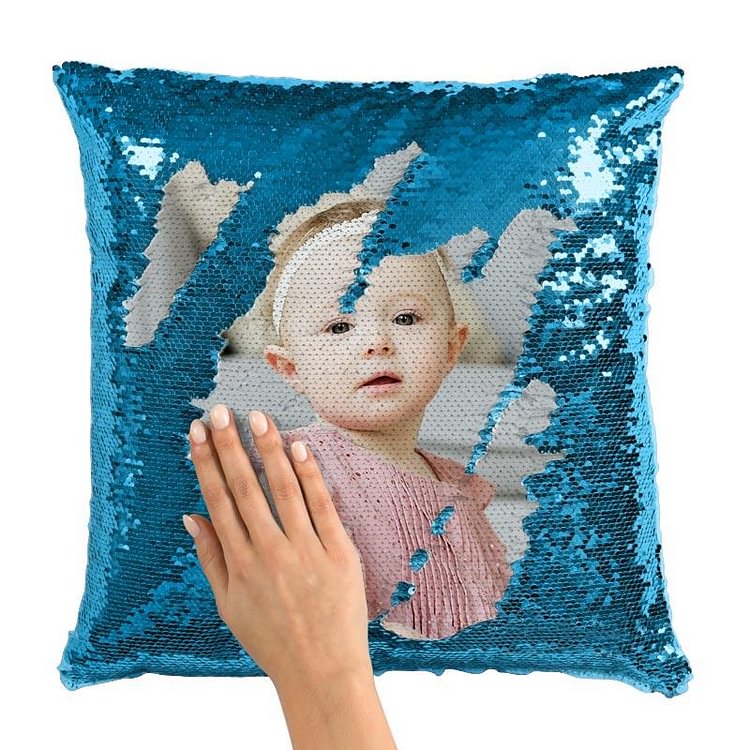 Special Offers Today!
🎁 Use code PL10 for an extra 10% OFF
✈️ Free Shipping on orders over $69
💝 Free Christmas Gift Bag for Orders over $49
Make unique and unexpected gifts !
Custom throw pillows make unique and unexpected gifts. Get ready to see the biggest smile when your loved one opens their personalized photo pillow and gives it an even bigger hug.
Best Memorable Gift: Customized dog pillow, Personalized Pet Photo Pillow, Love Photo Throw Pillow, Wedding Photo to Keep the beautiful moment.
Best Surprise Gift: This Personalized Sequin Pillow is the perfect addition to your home or bedroom or the perfect gift for her! Personalize it for the special unique touch that will make this one of a kind and cherished forever! it is also a great home decorative pillow for every occasion.
High-Quality Material: Our sequin pillowcases are made of polyester and high-quality, shiny, sparkling sequin.
Reversible Sequins: The flip technology makes it easy to play write and design on Sequin Pillows. Run your fingers across the sequin, you can get your picture or DIY any pattern. Just like magic.
Make your own Sequin Pillow
The more pillows, the cozier the room, we say!
Custom sequin pillows are a unique way to display your favorite photos while also adding some fresh style to your home decor. Show off your travel pics and family portraits on a photo pillow, or design a one-of-a-kind housewarming gift for a pillow that brings a personal touch to a new home.
Whether you want to create a picture collage, a Special Gift for mom or dad, our options make the design process a breeze. Add your own photos of personalized sequin pillows that fit your style.
【Easy to Customize】
Customize your pillow with your own picture, just tap the "Choose photo" button, attach your photo, add to cart, checkout. It's so easy!
Q: What are my design and personalization options?
A: Your design and personalization options are completely up to you. You can upload whatever you'd like – brand Logo, team logo, family badge, a photo, an inspiring quote, vintage graphics, memorable landmarks, and more.
Q: Is there anyone else who can help me to crop the photo?
A: Don't worry about your photos, our Photo Enhancement Team can help you out, crop the photo to fit the pillow, remove the background massive, add text on the photo. You don't need to learn any skill to crop the photo, just leave us a message or email us via [email protected]
【Size & Material】
Size: 16"x 16" (40CM x 40CM)
Material: reversible sequins (front) and soft suede fabric (back)
【Q & A】
Q: If I attached the wrong photo, can I change it?
A: sure, we can modify the order for you, if you want to change the color, change the photo, just shoot us an email: [email protected]
Q: Print on both sides or one side?
A: sequins on the front, soft suede fabric on the back.
Q: Any other tips?
A: Please note there may be a small number of white spots on your pillow due to the nature of the sequin. This is because some of the sequins are covered during printing.
Production, Shipping & Returns
Please allow us to process your custom order within 1-3 business days
Free Remake Guarantee. if your first order doesn't fit like you think it should, we'll make you a new one free of charge
Support Team
Email us: [email protected]
Bulk order: [email protected]
Message us: ‪(302) 315-0808